Audrey Lynn Kitching is an American fashion blogger, model, and fashion designer. Known for her "pink hair and Lisa Frank vibe," Kitching has been declared simultaneously a "fashion forward female" and "fashion disaster" by Cosmopolitan, an "It Kid" and "goddess" by Nylon, a "weekend role model" by Glamour, "one of the rising crop of Hollywood Internet stars taking the underground by storm" by the Los Angeles Times "this generation's new mogul prototype" by Karmaloop, a "girl boss" and "American social media icon" by Indie Magazine, and "one of the original Internet icons" by Bullett Magazine. Kitching has been profiled by Women's wear Daily and Nylon, along with a number of other high-profile fashion publications. As of December 9, 2015, she has amassed nearly 550,000 followers on all of her social networks combined.
In May 2011, Audrey did a photo shoot with Kerli and on June 9, 2011, Audrey released the photos on her blog.
Gallery
Collaboration with Kerli
Tokyolux Hollywoodland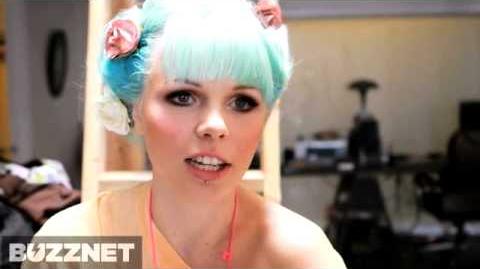 Ad blocker interference detected!
Wikia is a free-to-use site that makes money from advertising. We have a modified experience for viewers using ad blockers

Wikia is not accessible if you've made further modifications. Remove the custom ad blocker rule(s) and the page will load as expected.