Gun Ring
Walking on Air
and
Tea Party
music videos.
White and Pink Rose Ring
Kerli wore this in an
Alice In Wonderland
event. Up close we can see that it's very detailed and it's mostly made of pearl-like beads.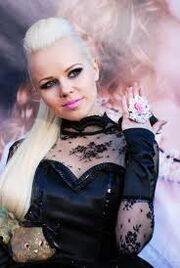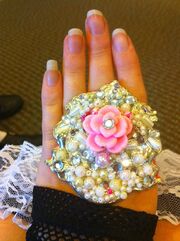 Doll Head Ring
This is a well-known ring among us, Kerli wore it in the end sequence of the
Tea Party
music video along with others.
Spikes Ring
This is one of the many rings that Kerli wore in the
Tea Party
music video. The ring can me fitted into the red glove, as in glued, for all we know.
Ad blocker interference detected!
Wikia is a free-to-use site that makes money from advertising. We have a modified experience for viewers using ad blockers

Wikia is not accessible if you've made further modifications. Remove the custom ad blocker rule(s) and the page will load as expected.