Poll
Which is your favourite single from Kerli's discography?
Featured content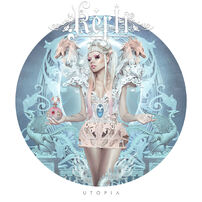 Utopia
is the second EP by Kerli, released on March 19, 2013. Songs recorded for the EP leaked when it was streamed on a semi-private website in December 2012.
Army of Love
and
Zero Gravity
, were released as promotional singles in 2010 and 2012 respectively, while the EP's lead single titled
The Lucky Ones
in 2013.
Sound of Walking Away
is a song from American DJ Illenium, featuring
Kerli
. The song was first previewed at Snowglobe in December 2016, before being teased again on February 12, 2017, at Crush SF. Illenium performed the song at Coachella 2018, with also the premiere of the music video, yet to be released.
Social
Countdown
Quote
I'll lick the poison from right off your kiss
Fall on rosy thorns for a taste of lethal bliss
Oh we'll be making love like savages
from
Savages
Affiliations
If you have anything to ask, please contact one of the Administrators.