When Kerli makes a new album, she literally builds a world around it. Her epic, unforgetable videos are a mix of raver fairytale and underground revolt that have inspired superfans the world over to create the place in which they'd like to reside. She believes in creating her own costumes, stage sets, and even studio spaces, at times in collaboration with other talented crafters. The Ultra Music-signed artist has worked with everyone from Benny Bennasi to Demi Lovato, but for her most personal album to date, Kerli left the "L.A. rat race" for a secluded Estonian forest in order to build all of her sounds from scratch. While there, she tells us, the most complete world she's ever come up with was born. Here, in a video made and scored exclusively for V, Kerli shows us how it's done.
The interview
How far along is the new album?
"

I'm about half done and would like to have it all done by early Fall as it's definitely something that needs to be listened to during one of those long and haunting nights that forces one to go deeper inward.

"
What inspired the trip back home?
"

I felt an extremely strong calling to retreat from society this Spring and move into a tiny cottage in the woods of my native Estonia so I could spend some time in absolute solitude and connect with the plants, animals, and the land that gave me life. I traveled with nothing but my studio and a minimal amount of clothes because I wanted to have nothing to distract me from the purity and authenticity both as an artist and as a human being. I was so tired of the noise. So I've been sitting here day and night, making this music, hiding from the cold and trying to completely strip myself from a need to impress, working on becoming a pure self-expression.

"
And how is the retreat reflected in the album so far?
"

Musically, I think this is by far the most meaningful work I have ever done. I just feel so connected to it. I have always written and vocal-produced but now I'm also producing a lot of [the music] by myself, so that feels really good. At times I feel like a slave to this work, completely tortured, like giving birth to giants, toe by toe. Sound-wise, I've been trying to channel everything that I see and hear in the woods, all the magical creatures and simmer it in a sauce made of my favorite ingredients like electronic, ambient and industrial music. I feel completely fearless and unapologetic as a human being right now when it comes to living exactly how I want and I think it will really show in the art I'm working on as well, lyrically, musically, and visually.

"
How long has it been since you've worked on something so focused on your own music and image?
"

Never. I have never felt a commitment on this level towards anything I have ever done. I have always worked extremely hard to the point where it was unhealthy and I am grateful for having the whole 7-year L.A. rat race experience because it made me learn the skills, but I just knew that to make my masterpiece, I had to be stripped of everything I know. There is a lot of fear in a money-driven world and I knew that if I wanted to create something I could die for, I couldn't have any outside noise blinding my truth. And when I talk about creating something with a true meaning, I am not talking about striving to make the biggest selling record ever, I'm talking about making something that I would want my grandchildren to hear as a relic, a memory of who I really was.

"
What goes into creating a world, as you've described it?
"

Time, dedication, commitment, discipline of the spirit, and taming of the fear. I am now in a space where I know what I'm building for this next world of mine so I've been hunting for fabrics and materials in the second hand shops all over Estonia and reading tons of books related to the characters I am creating. This make-believe but also very real world needs soundscapes, characters, and even buildings. It's very, very extensive this time around.

"
How is this one different from others you've created?
"

My previous worlds have been somewhat subconscious. I remember growing up in a teeny Soviet-occupied town where everything man made was extremely boring and grey, making me feel like an alien because I always wanted the drama and color and eccentricity. We had nothing, just these care packages coming from Sweden with clothes and candy. One day my luck turned and I got sent this epic silver jacket, which was the first time I remember having something that was actually cool. I colored my hair with neon sharpies and became a rock star in my head, dreaming of making music and traveling the world. I lived in that world so much that my mother got worried about my mental health.

"
And then you became a rock star for real.
"

There was the "Love Is Dead" world that was the world of a little creepy girl from Estonia. I had a chance to work with David LaChapelle's stylist Franck Chevalier during the "Walking on Air" video shoot and he taught me to customize shoes and clothes. I also was blessed to collaborate with the amazing costume wizard Marina Toybina and she taught me about materials and where to get what from. I realized visuals were just an illusion and I can create anything I want with very little budget if I just open up my imagination. These people blew my mind and kicked off my own DIY obsession.

"
And "Utopia"?
"

The "Utopia" world brought with it a beautiful space I built in a real 100-year-old temple in the Hollywood Hills. I called it The BubbleGoth HQ, and that was kind of the first space I built. Meanwhile I started getting really focused on learning how to actually sketch and create characters and fashion besides getting my chops sharpened writing and vocal-producing. This next world I'm making, though, this is way bigger than anything I have ever built. There is no separation between art and life for me anymore and I am trying to become the piece I'm creating or vice versa: to build a piece from what I really am. I believe one's life is their true masterpiece: how you speak, act, how and with who you decide to spend your time. It's about coming up with the most amazing character that you can imagine and then becoming it fully and fearlessly.

"
What are the best and worst parts of living in Estonia?
"

My favorite things here are the simplicity, the space to create freely and my family. There is no least favorite things because I only focus on the stuff I love. Mosquitos maybe.

"
What are the best and worst parts of living in L.A.?
"

The best parts are the weather and the food. And the extremely driven people if one is there to acquire a skill of some sort. I have been so lucky to learn from so many dedicated and talented musicians and fashion designers over there. My least favorite thing is that everyone has an agenda. But maybe I attracted that because my own vibe was off. I believe in taking responsibility for my own reality.

"
You've been vocal in the past about your childhood being hard. Do you keep in touch with a lot of the people you knew as a kid, and your family? Is it hard seeing them when you go back home?
"

I basically escaped Estonia at 16 because I felt that out of place. The wounds and bruises of childhood haunt us for the rest of our lives but there's a point when one needs to stop being a victim and start mastering their being and living their own journey. Often that means forgiving where forgiveness isn't due and accepting that someone that hurts other people only does so because they feel all that pain inside themselves. Pain is the best teacher though. Beautiful people grow out of pain. And beautiful art.

"
Kerli's as yet untitled album is out this Fall.
Gallery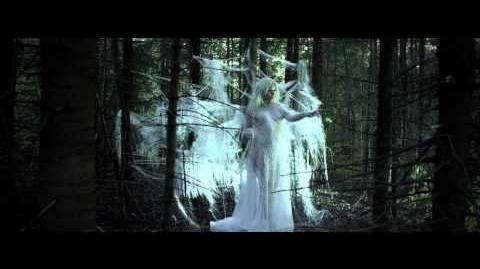 Ad blocker interference detected!
Wikia is a free-to-use site that makes money from advertising. We have a modified experience for viewers using ad blockers

Wikia is not accessible if you've made further modifications. Remove the custom ad blocker rule(s) and the page will load as expected.